Purpose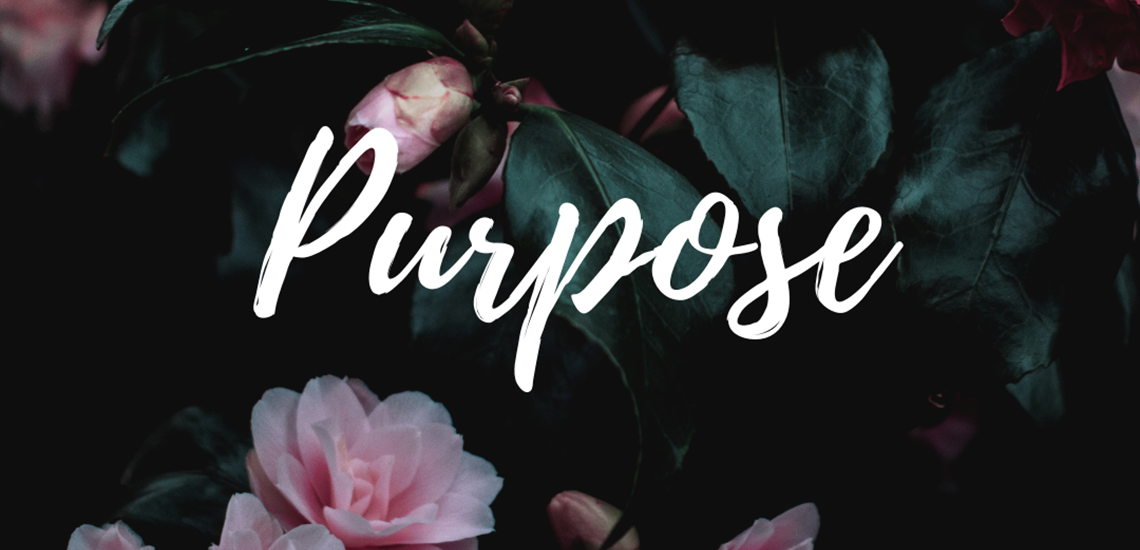 In our day and age, being a person who finds, and lives, their purpose, has become a rather standard topic of high importance. It is accepted that we all look for meaning in this life, and unless it's found, there's a strong chance that in the end, we will face much regret, without the time or opportunity to change any of it.
All this daunting pressure can result in such deep-seated confusion or even anxiety in people that right now, the Self-Help industry is one of the biggest and most rapidly expanding markets on earth. In the US, its products and services were worth 9.9 billion US dollars in 2016 and at a rate of growth of 5.6% average per annum, it will rake in an astronomical 13.2 billion USD for its providers by 2022.
All this, to find the best version of ourselves, and improve the quality of our lives while ensuring as little regret as possible over the course of a life, and at its end. None of it sounds like a bad idea, except that we as humans, do not function too well in an environment that demands doing, over being.
And all of these strategies, in fact Western society itself, demand a lot of personal doing, achieving and self-motivating to get it all done. "It all" being those goals, and that life plan that ensures that we thought this thing through and then daily worked our way through a life of ticking off what was considered by us as priority at one point. In modern Christianity, a book entitled "A Purpose Driven Life" was penned by author and pastor, Rick Warren, has sold more than 32 million copies in 85 languages worldwide. This book, along with a 40 days of purpose devotional journey, has proven the need for guided self-discovery for anyone.
However, even within the very title of this continually popular book, lies a great dilemma.
The dilemma of being driven over being led. The issue of human nature not flourishing in circumstances that demand self-motivation and goal-setting to hustle, drive oneself, push all the while, and never stop to rather be gently pulled, guided by the heart, and led by a wisdom outside of ourselves, into that which is best for us.
Recently, a trending video on social media proposed that goals are dead, and that self-motivation is only required when we attempt to fulfill the vision of someone else, outside of our own personal passion. A life centered on what we love, and find meaning in, will be a source of bottomless inspiration, it proposed. Simply put, self-motivation will likely never be required when we do something we love to do, and believe in. 
I think we can take this idea even further, to say that it follows therefore, that purpose is also dead. And that a life OF purpose is not as important as a life ON purpose. I find evidence of this in the Bible, a book so masterfully crafted to contain truths dedicated to our freedom as human beings, that it is still relevant, thousands of years down the line, in a 21st century world. Never does the Bible speak of human beings needing to be driven, enthused or motivated to achieve anything. Over and again, each account of individual and corporate encounters with God, employs words like led, guided and called. It treats this life as a tool that serves the purposes of God, to in turn serve us as human beings in our relationship with our Creator. Life is a journey, it seems, and this journey, is the whole point of life itself. The people, places, character assets, words used, choices made, and decisions of eternal worth on this journey, are shown to be the reason for our existence.
In the book of John chapter ten, verse ten explains that the thief comes to steal, kill and destroy, but that Jesus came to give us life in abundance. This picture of abundance imagines several vessels being filled simultaneously, to the same extent of ampleness, even to overflowing. What this means is that every aspect of our lives is equally important to God. His mentorship does not ask us to choose in which area we would like to flourish. He means that we should have abundance in all aspects, equally. Health, wellness, parenthood, romance, work, play, relationships, and more. We often hear about successful people in terms of financial success, but this criteria, financial security, or education, is only one aspect of life. And in God's eyes, nowhere near the top of a list of importance. He gives us a picture of a circle, rather than a pyramid, of importance. But indicates that the cups of relationship, are the only ones of eternal value, and should be the main focus of our attention in this life. Relationship with our God, our neighbor, and ourselves. As we learn to love ourselves, our God and others, which is the work of a lifetime. In the end, Corinthians indicates, only remains hope, faith and love. The greatest of these, is love.
Perhaps there is no destination, and despite our deep need for arriving, we should consider that we never will, and one day will simply cease walking this journey. Milestones and achievements are just a part of this wonderful life but will never let us off the hook as human being expected to exercise our unique ability to love, grow, develop and evolve in maturity. When we are led, we are safe because we do not rely only on ourselves for the care of ourselves. And aren't ever asked to adopt skewed priorities for our lives, or neglect one aspect of life for others, as the world seems to dictate, we all do.
About what Jesus made possible for us, Paul in Galatians describes it like this, "it was for freedom that He has set us free, no longer to be yoked with slavery" Gal. 5:1.
What this means is that it wasn't only freedom from certain things that God made possible for us in His Son. In order that we may never lose hope, have despair, or be dragged away into unwellness by destructive passions and lusts in a life out of balance with itself, He gives us freedom as a mental, emotional, and relationship health tool for humanity, which can be applied to each and every circumstance, no matter how threatening or dire.
Good news, no? I think so. Love is the goal. Everything else, is an added bonus, and the fruit of a life of love.
By Anke Swart
Youth Centre Manager
If you are worried about yourself, a family member or a friend, contact us for information.